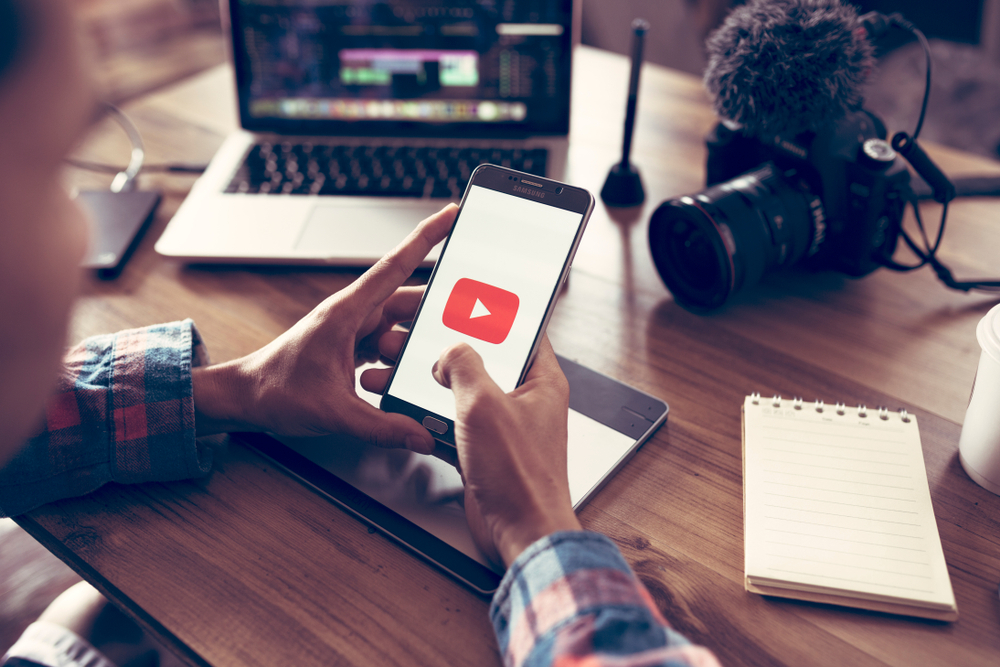 YouTube has been embedded in everyone's lives as breathing oxygen, sleep, and drinking water. No one in the entire world says that they do not know what YouTube is. Every individual heard of it, and about 2 billion users use this platform actively every month. For sharing informative videos and different content, there is no other platform that is rewarding as YouTube is. According to 2021 statistics, YouTube is the platform that generated $19.7 billion in revenue, and more than 2.3 billion people using this platform once a month.
With such an incredible opportunity, starting a YouTube channel is one of the best decisions that a person ever makes. The fun fact about YouTube is; it is the 2nd most visited website after Google. If you want to reach your target audience, then YouTube offers a massive approach to its users. These days everybody wants to stay active digitally and socially as well. Whether they are a celebrity or a famous personality, they all want to claim their ownership on the top-rated sites, such as; YouTube and Wikipedia.
Suppose you are an artist and willing to mark your existence on the social platform to display your work and attract traffic, creating your YouTube account is one of the finest choices ever. YouTube's growth is beyond compare when it comes to traffic and revenue. If you are pondering why an artist needs to create a YouTube profile, so read this blog thoroughly.
What YouTube is for An Artist?
Many people are thinking about who actually artist is. For their understanding, an artist can be anyone who creates art such as paintings, music, writing, or sculpture. They have creative imaginations and conscious skills to express human expressions. If you are thinking about why an artist needs a YouTube profile, you need to know that it is the free service platform that allows the artist to represent their creativity to all of their followers.
Suppose you are a musician and want to promote your music, YouTube offers you incredible services for it. If you want to get on YouTube and wondering how to create a YouTube artist account, then let's dive into this comprehensive guide.
What Is An Artist Profile?
The YouTube profile of an artist is the official representation of an artist on YouTube, which brings the unabridged of an artist's music into one place. That makes it easier for an artist to manage their music without the hassle and give a destination to their fans to involve in their artwork.
Points To Consider For Artist Profile On YouTube
Luckily, creating an artist page on YouTube is not a difficult task. You just need to comprehend the YouTube guidelines to get a successful channel. Before getting involve yourself in the process of how to create an artist profile on YouTube, there are some requirements you should check out;
Operate or own a YouTube channel that signifies one band or artist 
Must have 3 official releases on YouTube 
No policy violation on your YouTube channel
Become the part of the YouTube partner program 
Your channel must be part of a label network 
 Outline The YouTube Account Creation Process
In this comprehensive guide, you will break down how to make an artist account on YouTube. If you have been debating and getting yourself involved in creating your YouTube channel or might encountering difficulties in creating a channel for an artist and still have not found your feet, then this post surely helps you.
Sign into your Google account or create a new one on
Create your account on YouTube
Fill your profile with relevant details
Set up your artwork & icon
Make a channel trailer
Upload your YouTube video first
Never forget to optimize your video
After outlining the YouTube account creating process, let's dive deeper to understand each step thoroughly.
How To Create YouTube Artist Account
To gain a steady increase in your followers. Let's start the artist profile creation process without spending more time.  Let's get into it!
1.      Create your Google account
The first thing that you need to consider before getting on YouTube is to create your Google account. Either you want to create a new or dedicated one especially for your YouTube profile or use an existing one, this is the most important step you need to use to link with your YouTube account. Your Google account is just the key or doorstep to get into YouTube. But, creating a new one is the ideal thing as you do not need to worry about the security issues that are tied up with your personal Gmail account.
2.      Create your YouTube account

Once you are done with your Google account, the other step is to create your YouTube account. You can even automatically sign up directly with your Google account. To create your YouTube account as an official artist profile, you need to follow the simple steps mentioned below;
Sign in to YouTube homepage
Click on the avatar icon appear at the top right corner
Go to the channel list from drop-down options
Select the option to create a new channel or use an existing one
Fill out the details
Add your channel manager
3.      Fill your profile with relevant details
There are several things you need to consider for your official YouTube profile. But, the information will show some must-dos for an artist. You need to click on the link "customize channel", then a new screen is open that shows what your channels needs for a complete process.
When you open the channel dashboard and click customize the link, three tabs come into view; layout, branding, and basic view. You need to enter relevant information that helps you in optimizing your channel for your audience discovery. You need to fill out this information by using descriptive keywords that help improve the visibility of your account in searches. Keywords that you can include must be related to your industry and channel topics.
4.      Set up your artwork & icon
Before anyone can view your video content, ensure that you create imagery for your channel with a dedicated icon or banner. This step will help you in showing the reliability of your YouTube channel. This part is the most important step that gives a unique look to your channel. So, it is essential to pick the right imagery or artwork to garner the attention of a respective audience.
Before setting your icon and artwork, check out the dimensions for your YouTube images;
For channel icon: 800*800 pixels
For channel banner: 2560*1440 pixels
These dimensions are large, so you need to use high-resolution images to give an incredible look to your virtual display. While uploading your icon, YouTube shows a preview and cropping option to ensure that nothing gets cut off. This helps you to make sure that your YouTube profile looks professional.
5.      Add channel description
The channel description is the crucial piece, as it helps the viewers in knowing about yourself that results in long-term followers and leads. This is not only a place where you make a personal impression on your targeted viewers, but it also funnels them in your social homepage and profiles.
A channel description is not rocket science. It is the short and snappy welcome statement that is necessary to garner the attention of your followers. If you want to add a call-to-action link, then go for it. The last thing for your description box is debatably most imperative. That is, add links to your social profiles such as Wikipedia, which surely helps you in getting more traffic for your YouTube page. Making a Wikipedia page help to boost your traffic and also enhance the chances of getting long-term followers. A wiki page always shows the credibility of your online existence. With your wiki page, you have accessibility to let your viewers know what exactly the purpose behind your YouTube channel is.
6.      Upload your YouTube video first
Finally, it is time to upload your first video. After setting up all the necessary requirements, you must have to hook the attention of your viewers. If you are considering what the right way to go for your first video is, then there is no right and wrong way to set up your first video.
You simply dive into the straight actions to introduce yourself. Let your followers and viewers know what you are up to. To upload your first video, all you need to do is;
Click the upload video icon 
Pick unique tittle 
Write your video description 
Select the thumbnail 
Include keywords 
7.      Never forget to optimize your video
Once your account is filled with appropriate stuff, the last thing is to optimize your channel and content. It is the final and concluding piece of the puzzle. This step will improve the visibility of your video content and being watched by several new viewers. To optimize your content, you need to create a channel trailer. However, the channel trailer helps to introduce first-time viewers to your channel, and it also outlines the content that your audience should expect.
Final Takeaway
At last, you comprehend the basic steps of creating a YouTube profile for an artist. But, ensure that to optimize your video content, choose the right thumbnails, descriptions, tags, and titles to improve your visibility.
Activate Your
Coupon
Get started before it's too late! It's a limited time offer so hurry up! Get yourself a Wikipedia page today!